Dismantling the Doctrine of Discovery Coalition
Summer 2020 Newsletter
IN THIS ISSUE
DDoD Annual Gathering and Conference August 6, 13, and 20
Volunteer Opportunities with DDoD
Victories in Decolonization
Updates from our Repair Partner: Suriname Indigenous Health Fund
We're creating a board game!
Readings from DDoD Coalition members
REGISTER NOW!
Dismantling the Doctrine of Discovery Annual Gathering and Conference
We are organizing our 2020 annual gathering around an online conference sponsored by the Indigenous Values Initiative and American Indian Law Alliance. The conference will happen over 3 Thursdays in August. Our Coalition will then gather over 3 Sundays to discuss what we learned from the conference and attend to our Coalition's work and strategy.

If you can join, please follow two steps:
Register for

Mother Earth's Pandemic: The Doctrine of Discovery

conference on this site: https://indigenousvalues.org/mother-earths-pandemic/
Dates: Thursdays, August 6, 13, and 20
Times: 6-8 PM EST each Thursday, followed by thematic discussion groups, 8-9 PM EST.
Cost:$10-$50 sliding scale (no one turned away for lack of funds!)


Register for the

Dismantling the Doctrine of Discovery Coalition's Annual Gathering

on one or all three Sundays: Zoom Registration
Dates: Sundays, Aug 9, 16, 23
Times: 6-8 PM EST each Sunday. First half-hour: debrief from conference; second hour and a half: Coalition business
First time participants will be sent a short introductory video to familiarize themselves with the work of our Coalition.
VOLUNTEER OPPORTUNITY
DDoD Arts and Ed Committee Seeks Volunteer
The Arts and Education Committee of this Coalition is looking for a volunteer to compile a running list of Black and Indigenous organizations and groups accepting reparations! We have a starting list already and are hoping to add to it and publish it on our website and in a reparative justice guide.
If you are interested please email Katerina at: katerina.m.friesen@gmail.com
VICTORIES IN DECOLONIZING
Prayer is Powerful Action Defending the Land
Stevana Salazar (left) of the Kickapoo Tribe of Texas rides with Arlo Standing Bear, Oglala Lakota from Allen, S.D., in the Sacred Stone Camp, Aug. 26, 2016.
Photo credit: Terray Sylvester / WPICS VIA REDUX
There have been nationwide protest against racism and colonialism, court cases, and other public pressure campaigns. This is leading to many symbolic and concrete victories in the struggle to decolonize. Here's a few highlights:
Update on our Repair Partner:
Suriname Indigenous Health Fund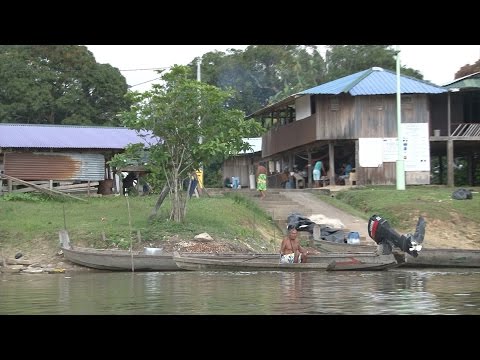 click the image to watch a video about Suriname Indigenous Health Fund
Thanks to the generosity of our donors, we were able to send a check for almost $6000 to our current "Repair Partner," Suriname Indigenous Health Fund (SIHF). The Coalition has made a commitment to give 60% of all donations toward repair work with Indigenous people, with 40% going towards the continuing work of the Coalition to build relationships and educate the Anabaptist community.
SIHF will be using those repair funds for two efforts: to purchase mercury test kits for the Wayana, who are being poisoned by mercury contamination used in gold mining. And now, in response to COVID-19 to help with pandemic-related food relief efforts among the Indigenous Wayana people of Suriname, French Guinea and Brazil.
Mercury is a neurotoxin that causes serious health problems and even death. Gold mining releases mercury directly into the rivers that provide the Wayana with food and livelihood. Mercury contamination also affects the miners, animals and soils. In order to prove that this mercury contamination is occurring, the Wayana need to have evidence via hair analysis. They send hair samples to SIHF's lab in Washington, which then analyzes the hair for mercury contamination and returns the results to the Wayana. This analysis allows the Wayana to advocate for themselves using those results. Each mercury test kit costs about $5.
For more information, please go to sihfund.org.
SIHF will remain our "Repair Partner" through the end of August 2020, so please continue to give to the Coalition, so we can give to SIHF. Or, you can make a donation directly to SIHF via the website above.
Here is the latest update from Dan Peplow, executive director of SIHF
Suriname Indigenous Health Fund (SIHF) received $6000 from the Dismantling the Doctrine of Discovery Coalition. Since the COVID-19 pandemic, communication and cooperation has become a challenge. Our intention was to continue community-led testing for mercury in communities contaminated by mining. The Corona Virus Pandemic has created difficulties, however. The governments of Suriname and French Guiana have militarized the Maroni and Lawa rivers, under the pretext of controlling the virus, which has had the effect of isolating the indigenous communities from our in-country "bridge" partners The Organization of Guyana Aboriginal Nations (ONAG), and the Coordinator of Indigenous Organizations of the Amazon River Basin (COICA). SIHF's efforts to adapt to the new conditions of the pandemic spurred the following reaction from the French government:
We were informed on 13 July 2020 that testing hair samples will be the "exclusive responsibility of the Regional Health Agency. Collecting and testing hair samples are monitored in France. Community protocols will be implemented in order to better control collaborations between researchers and indigenous peoples. Even if you have an impeccable ethics, agreements between community leaders and foreign partners are no longer enough and more complex procedures will be put in place".
Health Fund (SIHF) will continue to support indigenous communities working to protect their health. We support communities who want to know the impact mining is having on their bodies and use this information to advocate for themselves. We give them tools to evaluate their own risk because we believe every person has the right to evaluate their own health as a basic human right. We will send communities sample kits with instructions. They can collect samples and send them back to us by mail, we will do the testing. They can dictate or send oral instructions through an interlocutor indicating how they want us to return the results so that we protect their privacy and ownership of the data. SIHF agrees to never use their data for any purpose whatsoever without their authorization. When satisfied, the community can repeat this sampling and testing process as many times as they wish without charge.
We will continue to offer our service and support communities that choose to address the mercury issue. All we need is an email requesting a sample kit, an address to mail the kit to, the name of the person authorized by the community to manage sample collection and receive the results.


SIHF has reserved funds that were shared with us by the DDOD Coalition for the exclusive purpose of providing public health information to Indigenous Communities facing contamination from mining.


With support from an "angel" anonymous donor, SIHF has acquired and will begin analyzing WorldView2 satellite data to detect and monitor mining activities and mercury contamination affecting indigenous communities in Suriname and French Guiana. During this time when we are unable to travel to French Guyana, we will use satellite imaging to support the aims of communities who want to evaluate the impact mining has on their communities themselves. They can then use this information to better advocate for themselves. We will be able to watch Apetina, Anapaike, and Tuenke, three communities we have been working with since 2004. (The above diagram shows the basic principle for detecting mercury impacts in a tropical forest.)


Finally, it is the position of SIHF that it is time to reshape the debate: All human life is highly valuable. It is not necessary or beneficial to sacrifice the lives of the vulnerable to promote economic goals. It is not necessary to sacrifice "The Economy" to save indigenous lives. The health of the environment in the Greenstone Belt region is highly valuable and necessary to sustain life in the region and the world. Basic economic reasoning suggests that, given the extreme toxicity of mercury contamination and the large-scale degradation of the environment due to mining in general, we should be willing to withstand the relatively small economic costs required to prevent the death, disease, disability and suicide these activities are currently causing. When we talk about "The Economy," we aren't talking about dollars or mining company profits. We are talking about the level of real opportunity available to every person in society to pursue and improve their quality of life. This is particularly true because most of the economic costs that would be incurred to correct the mercury issue would be temporary.
Dan
We are Designing a Board Game!
The DDoD board game subcommittee (of the arts and education committee) is actively developing a board game designed to engage, entertain, and introduce players to some of the core concepts of the Doctrine of Discovery, like the idea that land that is not farmed is not being "used."
The committee is collaborating with the TESA Collective, an organization that works with social justice groups and nonprofits to design games that embody their values, and are fun!
If you know people who might be interested in supporting this unique project, please let us know. Reach out to Alison Casella Brookins at pastor@ccmcil.org.
Ways to get involved with our coalition
There are still ways that you can be part of our coalition work, even while physically distancing. Here are some of the activities you can still participating in!
Explore our resources!
The Coalition has films, Sunday School study guides, games, exhibits, and other resources on our website. Take some time to brows and use our resources.
Volunteer with the Coalition!
The Coalition is fully volunteer run. We mostly meet through online meetings, so we continue to meet. Contact us about joining. We are looking for volunteers to join a subcommittee and shape the work of the Coalition in these specific areas:
Structures: Dismantling the Doctrine of Discovery in institutional, legal, and policy structures.
Arts and Education: Creating arts and education to engage Anabaptist congregations in the movement.
Constituency Engagement: Connecting with people and institutions to grow the coalition.
Join with Indigenous struggles
We want to help people connect their education about the Doctrine of Discovery into action to support Indigenous people. Here are a few suggestions that we are happy to help you pursue:
Act Locally – Are there are existing local Indigenous Solidarity efforts that you could join? We can accompany you in your process of acknowledging local Indigenous groups as a church community and seeking reparative justice.
Act Nationally – Can we include you in action plans to address national issues that the Coalition is focused on?
Act Internationally – Can we include you in action plans to address international issues that the Coalition is focused on? These include mercury poisoning of Indigenous people in South America and impacts of commercial agriculture in the Yucatán Peninsula.
Give to repair work with our indigenous partners and our Coalition
When you give to the Coalition, 60% of your donation will go to repair work with Indigenous people and 40% will go towards the continuing work of the Coalition to build relationships and educating the Anabaptist community to dismantle the Doctrine of Discovery.
Writings from DDoD
Here are some of the writings by our coalition members over the past year:
In God speaks Potawatomi Lynda Hollinger-Janzen shares of her experience walking the Potawatomi Trail of Death.